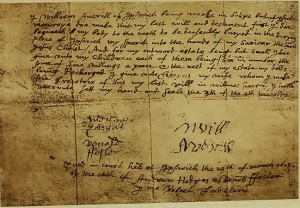 People of Interest in these Family Trees
General William Woods Averell, general in the American Civil War and Inventor of an Improvement of Asphalt Pavement
*Clara Arkette Avery, compiler of the Averill, Avery Family books in the early 1900's to which we all owe a great deal of gratitude.
Sarah Averell, a Salem witch
Elizabeth Jackson,a Salem witch
William Averell Harriman, an American Diplomat
Howard Earl Averill, a baseball hall of famer
Esther H Averill, an American writer known for the childrens Cat Club books
Gage Averill, a musicologist
Samuel Averill Hill, architect in Chile
Welcome!
Goals of the Project
A. To identify the descendents of William Averell "of Ipswich, MA", born c1595 and died c1652.
B. To identify Averill/Averell lineages not related to William "of Ipswich"
C. Place on one web site all of the available Averill surname information
The baseline for most Averill research is "The Averell - Averill - Avery Family" a Record of the Descendants of William and Abigail Averell of Ipswich, MA. in two volumes, compiled by Clara A. Avery, published August 1, 1906. Clara's 1000-page manuscript was re-typed to form the foundation for this project. This site hopes to prevent duplication of efforts by allowing the sharing of information and documentation by researchers. To request to receive our semi-annual Email Updates contact Gordon (contact info is at the bottom of this page)
How You Can Help
Please send us photographs of your ancestors, copies of any original documents, letters, and items you feel need to be preserved.
In Clara Avery's original book, she did a wonderful job in preserving family narratives. Birth, Death, and Marriage documentations are available from governmental sources. *** What we are losing is the narrative portion of our parents, grandparents, and great-grandparents' lives – of why they moved, how they met their spouses, where they were educated, where they worked, community involvement, and what the family did for entertainment. These narratives can be as brief as a few sentences, or a multi-page biography. Also, please help us with the female lines, which are much more difficult to trace than the male lines, for obvious reasons. This is one major area often omitted in research, in that most research looks only for Averill surname. It has been our goal to locate as many of these female lines as we can. Your help in this effort is very much appreciated.
We are actively seeking new participants for The Averill Project. We encourage you to email to b24b24@aol.com the following information for your grandfather, your great grandfather, your great great grandfather, great, great, great, etc., so that your family may be included in this undertaking to preserve our family heritage for our future generations.
For EACH ancestor, we need:
Full Name
Date and Place of Birth
Date and Place of Marriage
Full Name of Spouse
Date and Place of Death
Our other website for this project is averillproject.com
For More Information:
If you wish to provide information or inquire about the Averill Project contact:
Webmaster ~ Gordon Stevenson, son of Marie Averill. b24b24@aol.com and tschmid@austin.rr.com (Toni, Administrator)
Mobile: 214-616-8723
Mailing Address on Request
Top 100 Surnames in Our Family Tree